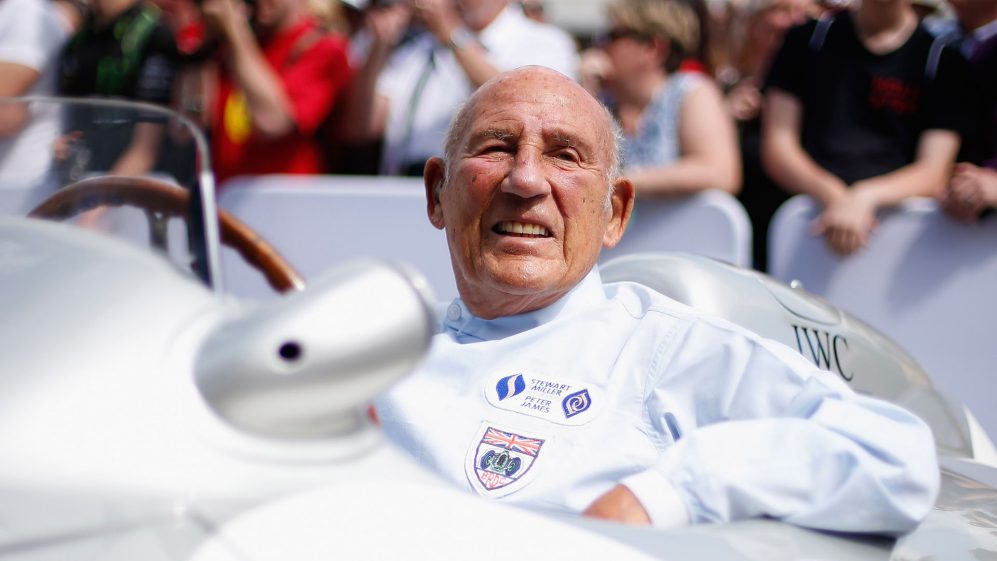 Legends are Made, Not Born is a book written Chris Doyle but this isn't about the Dungeon Crawl Classics, it is about a man who did not win the World Championship but is widely regarded as one of the greatest Formula 1 drivers of all time – the one that personified motorsport to at least two generations.
Sir Stirling Moss died aged 90 following a long illness. He raced in Formula 1 in the romantic age of the 1950s and early 60s, winning 16 grands prix. Yet despite his rivals at the time acknowledging he was the best; he never won the World Championship. This was probably down to bad luck and two seasons stood out, 1958-59. There was never any doubt how good he was. From 1948 to his enforced retirement in 1962, Moss won 212 of the 529 races he entered across all motor-sport categories. Of those who raced against him, only the greats Juan Manuel Fangio and Jim Clark were comparable, and the careers of Moss and Clark only briefly coincided.
In the 15 years between his debut in March 1947 and the accident at Goodwood in April 1962 that ended his career, Stirling Moss took part in 585 events. Let's take a look out some of his best moments in the sport.
1955 Mille Miglia
As a member of the Mercedes-Benz works team in sports car races as well as Formula One, Moss took part in this celebrated and highly dangerous 1,000-mile time trial around Italy. He was among the last of the 661 cars to roll down the ramp in Brescia. The cars in this time were basically Formula One machines with two seats and bigger engines; the entrants were released at one-minute intervals. Moss was accompanied by a journalist Denis Jenkinson; whose job was to keep Moss briefed by using a system of hand signals while reading notes carefully compiled during their reconnaissance runs. They arrived back in Brescia just over 10 hours later, having averaged 97.95mph over a course running on unguarded public roads through mountain passes, countless villages, and cities including Verona, Ravenna, Rome, Siena, Florence and Bologna.
1956 Italian Grand Prix
After Mercedes' decision to withdraw from racing, Moss went to Maserati as their number one driver for the 1956 season. He had driven his own Maserati in 1954, earning the respect of the factory by matching and beating the performance of their official drivers. In the opening laps, Moss sat calmly behind the Ferrari quartet, using prudence and racecraft as Castellotti and Musso destroyed their tyres while scrapping for the lead on the harsh surface of the circuit's high-speed banking. After a battle with Fangio and Harry Schell's Vanwall, Moss emerged in the lead – only to run out of fuel close to the end, needing to be pushed into the pits for a swift fill-up by Luigi Piotti, another Maserati driver, before re-emerging to take the victory and become the first British driver to win the Italian Grand Prix.
1961 Monaco Grand Prix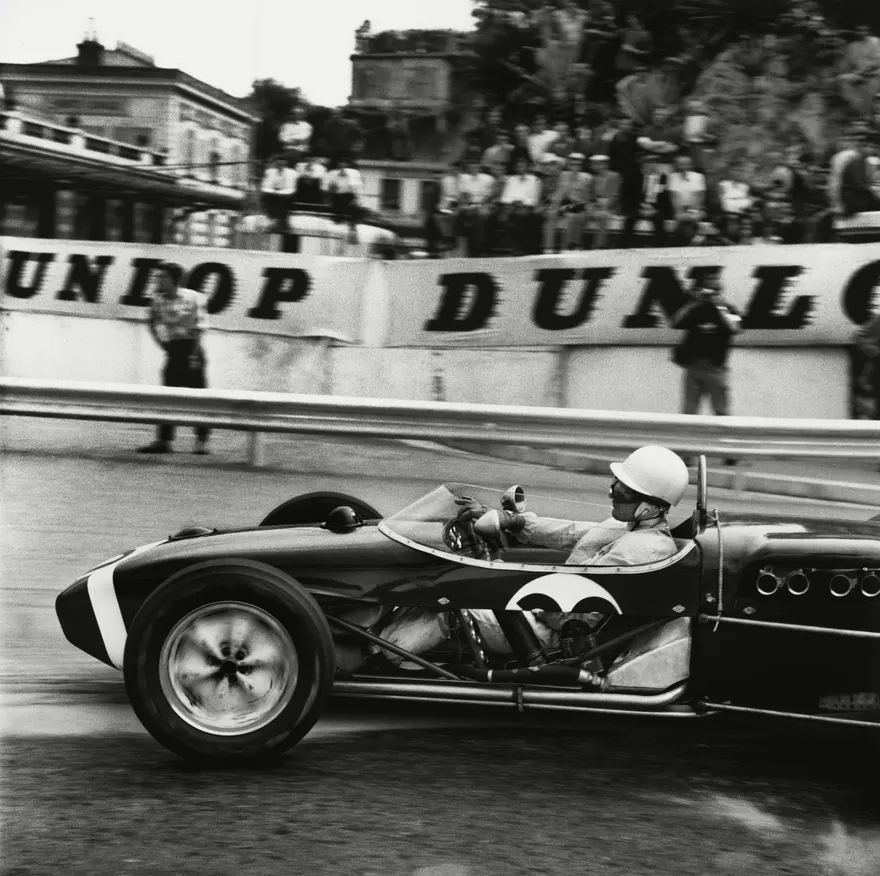 Moss's patriotic preference for driving British cars and his interest in mechanical innovation are often cited as the underlying reasons why underpowered and unreliable cars cost him the Formula One world championship. But they also created the possibility of performances like the one he gave in Monaco on 14 May 1961, which he described, 50 years later, as "probably my greatest drive in a Formula One race." That year he was at the wheel of Rob Walker's Lotus 18, which he had taken to victory in the principality a year earlier. But the regulations had changed and now he was up against a gaggle of Ferraris on their way to dominating the season. To combat the extreme heat of the day, the Lotus's side panels were removed. A crack discovered in the chassis had to be welded on the starting grid. His four-cylinder engine lacked power. But on lap 17 he overtook Ferrari's two American drivers, Phil Hill and Richie Ginther on lap 17, and held them off for the remaining 83 laps with a breathtaking display in which he could never afford to drop below the levels of concentration and speed normally required for a pole-position lap in qualifying. On a circuit designed to rewarded his mixture of brio and precision, his virtuosity was never more clearly displayed.
Some of these displays are the reasons he is referred to as the greatest driver never to win the world championship, Moss contested 66 Grands Prix from 1951 to 1961, driving for the likes of Vanwall, Maserati and Mercedes, where he famously formed a contented and ruthlessly effective partnership with lead driver Juan Manuel Fangio.
Despite his forced retirement, Moss maintained a presence in Formula 1 as both a sports correspondent and an interested observer, before retiring from public life in January of 2018.
At this difficult moment, the sporting world sends heartfelt condolences to Lady Susie and Sir Stirling's family and friends. Taking the final line from Lewis Hamilton; 'may he rest in peace'.